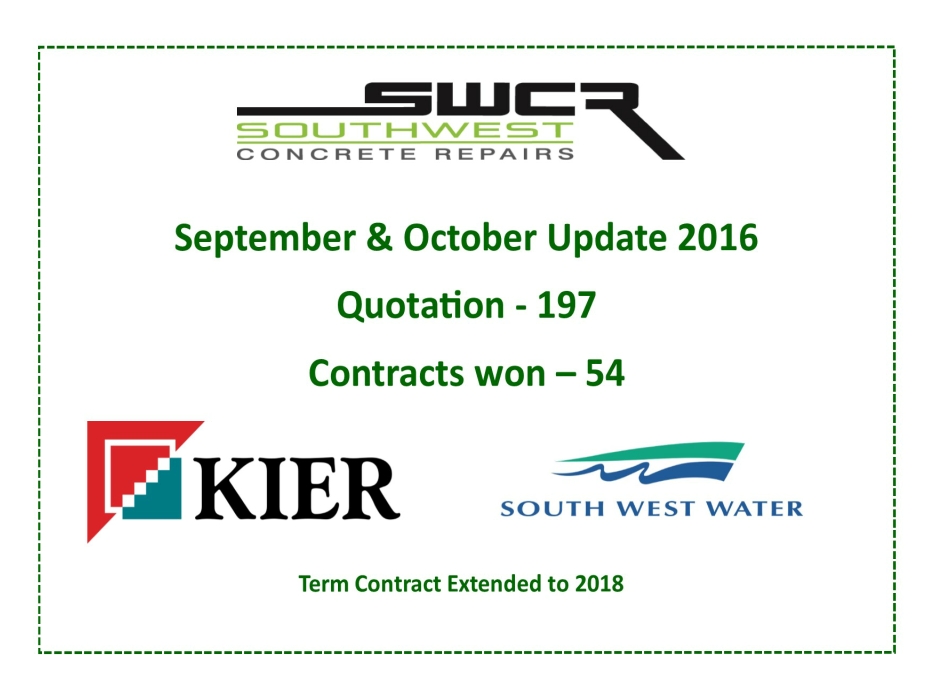 September and October Update 2016
It's been a busy couple of Month's both On Site and in the Office.
Enquires have been coming through thick and fast with 44 Quotation being sent out between September and October.
Current Projects
We have been busy working on various projects and have just completed works to the concrete window surrounds to a block of private flats in Weymouth, concrete balconies and lintels in Torquay, concrete entrance canopy repairs and application of a fluid applied roof coating to a Plymouth church and emergency structural concrete repairs to the Crownhill flyover on the A386 main arterial trunk road into Plymouth following a collision with a container lorry.
We are also pleased to announce that our term framework contract with Kier Group for South West Water has been extended for another 2 years.
New Projects
Over the next couple of months we will be starting some new projects which include, Resin injection to cracks on the A30 Temple to Carblake highway improvement scheme, Concrete repairs to restore a concrete boat/barge in Pembrokeshire, concrete repairs and coating works to St Andrews Court office block in Plymouth and Investigative survey and testing works to a large water tower in Bristol and some survey works to some road salt storage barns in Cornwall.
CPD Exhibition in Cornwall
A meet the experts CPD seminar is planned for the 15th November in Bodmin Cornwall, and SWCR are pleased to be delivering one of the talks alongside our colleagues at Vector Corrosion technologies. The talk will discuss the factors affecting concrete performance and common defects and the electrochemical reactions causing decay along with basic principles of cathodic protection and sacrificial anodes.  If you are interested in coming along please contact us via email or phone so we can pass you a formal invitation.