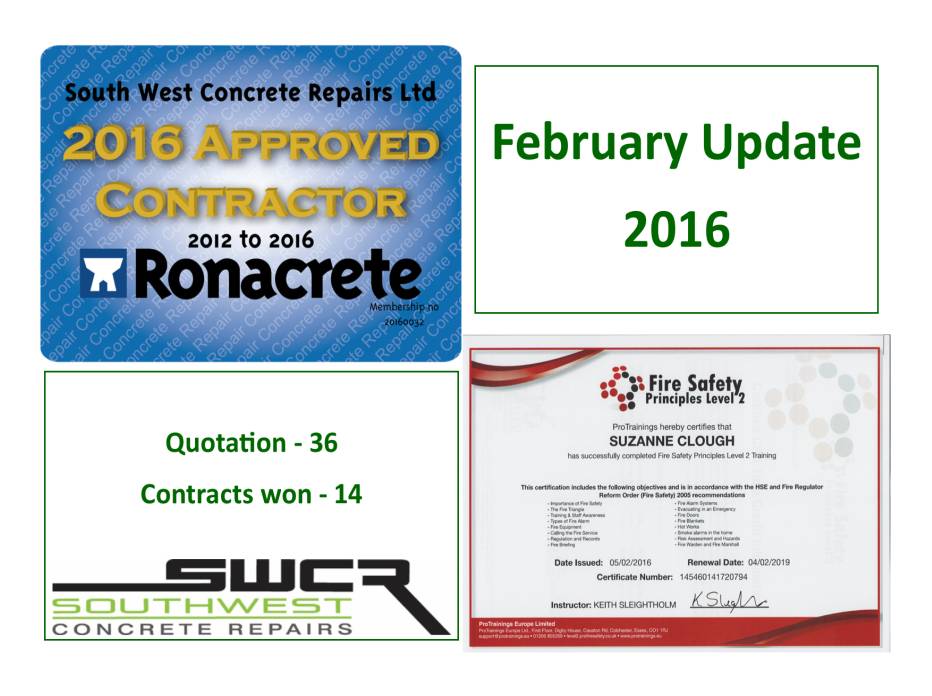 February Update 2016
Another busy month for us, with many more Quotes being sent out and more contracts being won.
We have completed 19 quotes this month bring our total to 36 for the year.
We have also won a further 4 contracts bring our total to 14 contracts won. Some of the projects completed this month are:
Crownhill Flyover
Woolavington Bridge
We will also be starting work at Princesshay Shopping Centre, Exeter next week for 3 weeks.
You may have seen earlier this month that our Office Manager, Suzanne, successfully passed her Fire Wardens course. Well Done
There are some new updates that have been added to the website:
We have added 2 New Case Studies of projects completed in the later part of 2015.
Huller House and Cheese Warehouse, Bristol – http://www.swconcreterepairs.co.uk/projects/case-studies/huller-house-cheese-warehouse/
Plymouth Promenade – http://www.swconcreterepairs.co.uk/projects/case-studies/plymouth-promenade/
We have also updated our Completed Contracts for 2015 – http://www.swconcreterepairs.co.uk/projects
We also have a new Certificate from Ronocrete to certify we are an Approved Contractor